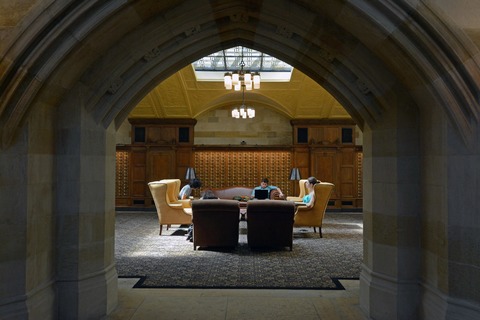 Rachel Treisman, Feb 21, 2017, Staff Reporter 
More than 100 students across different class years and majors are currently enrolled in a humanities seminar, piloting a hybrid seminar-lecture structure.
"History of Addiction," taught by history professor Henry Cowles, combines lectures with in-class breakout group discussions and individual writing assignments to make the humanities seminar format accessible to a larger group of students. The course, staffed by seven teaching assistants, meets in the Technology Enabled Active Learning classroom at 17 Hillhouse Ave. in order to utilize its multiple round tables and television screens.
"Teaching and learning in the 21st century should align with knowledge, skills and abilities that will be required to navigate the 21st century world," said Jennifer Frederick, executive director of the newly established Center for Teaching and Learning. "Professor Cowles' course design does this by emphasizing collaboration and interdisciplinary analysis that draws from both technical scientific texts and humanistic methods."
Read the full article at Yale Daily News.