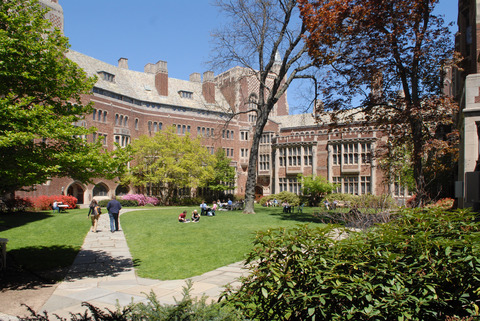 Field Prize
The Theron Rockwell Field Prize is awarded for a poetic, literary, or religious work by any Yale student. The prize was established in 1957 by Emilia R. Field in memory of her husband, who was a member of the Class of 1889.
This year's graduate and professional student recipients were:
Esther Chadwick '16 Ph.D. (history of art) for "The Radical Print: British Art and Graphic Experiment in the Paper Age."
Isaiah Lorado Wilner '16 Ph.D. (history) for "Raven Cried for Me: Narratives of Transformation on the Northwest Coast of America."
The undergraduate recipient was:
Lucy Fleming '16 B.A. (English) for "Four Wombs."
Porter Prize
The John Addison Porter Prize was established in 1872 by the Kingsley Trust Association — the Scroll and Key Society — in honor of Professor John Addison Porter. It is awarded for "a work of scholarship in any field where it is possible, through original effort, to gather and relate facts or principles or both and to make the product of general human interest."
This year's graduate and professional student recipients were:
Gerardo Con Diaz '16 Ph.D. (history) for "Intangible Inventions: A History of Software Patenting in the United States, 1945-1985."
Tayla Zemach-Bersin '15 Ph.D. (American studies) for "Imperial Pedagogies: Education for American Globalism, 1898-1950."
The undergraduate recipients were:
Simon Brewer '16 B.A. (political science) for "The Effects of Electoral Systems on Minority Representation."
Isaac Stanley-Becker '16 B.A. (history) for "Nuclear Weapons on Trial: Individual Conscience, International Law, and the Fate of the Plowshares Eight."
For more information on the Porter and Field prize competitions and to view a list of previous winners, visit the Porter and Field website.