Andrew Hogan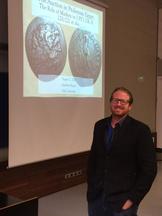 Primary field of interest:
Bio:
<br>
A Southern California native, I find myself abroad now in New Haven for the beginning of my fifth year.
Before arriving at Yale, I earned my BA in Classics from the University of Southern California (*the* USC) and an MPhil. in Egyptology from Oxford (Wolfson College). My interests span the ancient world, but I specialize in Greco-Roman Egypt, particularly the Ptolemaic Period. I'm currently working on my dissertation examining the auction as a financial institution and its role in markets during the rule of the Ptolemies. I work on the ancient economy, law, and other social and political institutions, usually as they are presented on both Greek and Demotic papyri. Along with colleagues from Johns Hopkins and Yale (Professor Manning and Francois Gerardin), we've recently published a volume on the papyri in Tokai University, Japan. When not squinting really hard at ancient writing, you can probably find me squeezing in time in the gym or catching a Laker game or USC football game.
I'm more than happy to field any and all questions about Ancient History here at Yale!.