Assef Ashraf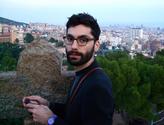 Primary field of interest:
Bio:
Assef Ashraf is a doctoral candidate in the Department of History and specializes in the history of Iran and the Middle East. His dissertation, entitled "From Khan to Shah: Social Ties and the Formation of the Qajar State in Iran, 1785-1848," is a study of state-society relations in Iran at the turn of the nineteenth century. It is built upon two years of archival research and draws on archival and manuscript sources from Iran, Turkey, Russia, France, and England. The dissertation explains how and why the Qajars were able to establish a new state after decades of political instability in Iran, by demonstrating the ways in which political elites were embedded in social and economic relations with broader society. His research has been supported by the Roshan Institute Fellowship for Excellence in Persian Studies, the Yale MacMillan Center for International and Area Studies, the International Security Studies program, and the John F. Enders Grant, among others.
More broadly, his interests include the history of Iran from the early modern to the present, comparative early modern Muslim empires, travel literature, and the culture and economy of gift giving. He serves as an Assistant Managing Editor with Dissertation Reviews where he also edits the Iran and Persian Studies series.
Assef's orals examination fields were: Iran 1501-Present and Nationalism in the Modern Middle East, with Abbas Amanat; the Ottoman Empire, with Alan Mikhail; and Russia to 1825, with Paul Bushkovitch. His dissertation advisor is Abbas Amanat.
Assef received his B.A. from New York University in 2005, where he was a recipient of the Rumi-Biruni prize for excellence in Persian Studies.
Publications
"The Politics of Gift Exchange in Early Qajar Iran, 1785-1834" (Forthcoming, Comparative Studies in Society and History)