Hannah Diamond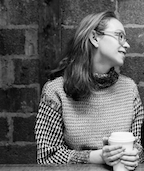 Primary field of interest:
Bio:
<br>
Hannah Diamond is a doctoral student of 19th-century American history and the history of abolitionism. Currently, her research focuses on examining the politics of race and gender among female anti-slavery activists in the first half of 19th century. More broadly, she is interested in cultural history, the study of gender and sex in early America, African-American history, and the production and study of historical memory.
Prior to coming to Yale, Hannah completed a B.A. in the Writing Seminars program at Johns Hopkins University, and an M.A. in American Studies at Columbia University. Her master's thesis examined how antebellum writers and historians used the 17th-century captivity narrative of Hannah Duston to grapple with tensions in shifting norms around gender and race in the era of early female social reform movements and Indian Removal.
In addition to her academic work, Hannah is also particularly interested in public history and collaboration between scholars from inside and outside the academy. She participated in the 2015 Yale Public History Institute, a week-long symposium focused on exploring and developing ways to interpret African American history for the broader public. She is also a member of CUNY's Public History Collective.