John Burden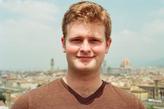 Primary field of interest:
Bio:
<br>
I study law and religion in the European Middle Ages with a specific focus on the legal code of the Catholic Church known as canon law.
Before coming to Yale, I received an M.A. from Fordham University and my B.A. from Dartmouth College. My hometown is Cincinnati, Ohio and my interests include European travel, Game of Thrones and spicy cuisine.
I am active in the Yale History Department and welcome all inquiries about the study of medieval and European history at Yale.