Kathryn Brackney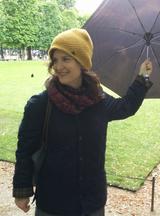 Primary field of interest:
Bio:
Kate Brackney is a doctoral candidate in the Department of History whose fields of research include modern European intellectual and cultural history, media theory, and Holocaust studies.  She holds a B.A. in Comparative Literature from Brown University and Master's of Theological Studies from Harvard Divinity School.
Dissertation: 
"Otherworldly Horizons: An Alternative History of Holocaust Consciousness"
Survivors of the Holocaust often use a language of "otherworldliness" to describe their wartime experiences, the European communities they left behind, and the spaces where they imagine their loved ones might live on. This dissertation examines how the dimensions of these "other worlds" have shifted in the work of artists, writers and critics who have reflected on the Holocaust during the post-war period in Western Europe, North America, and Israel. The project tracks the emergence and transnational circulation of figures such as poet Paul Celan's grave in the clouds, novelist Ka-Tzetnik's Planet Auschwitz, and filmmaker Claude Lanzmann's haunted Polish forestscapes. By analyzing changes in visual vocabularies of memory, this project outlines a new history of Holocaust consciousness that does not turn exclusively on events such as the Eichmann Trial, the Six-Day War, or the airing of NBC's popular miniseries, Holocaust. The project focuses particularly on moments when artists and critics have placed the Holocaust "beyond the limits of representation"—and examines how those limits themselves have been subject to historical change.