Lauren Gottlieb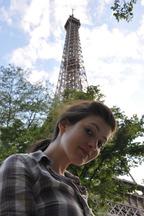 Primary field of interest:
Bio:
<br>
Lauren Gottlieb is a second year PhD student in modern European Jewish history.  Her work focuses on the development of Jewish political identity and nationalism in post-Enlightenment France and Germany.  Lauren's subsidiary fields of interest include intellectual and transnational history, philosophy of history, Zionism and anti-Semitism.  She is advised by Jay Winter, Adam Tooze, and Eliyahu Stern.  Lauren's first advisor, the late Paula Hyman, continues to inspire her work. 
Originally from New York, Lauren holds a MA in International Affairs from Columbia University (2005) and a BA from Wesleyan University (2002).  Prior to her tenure at Yale, Lauren worked for the Council on Foreign Relations and the U.S. Department of State on issues of foreign policy, both past and present, towards Israel and world Jewry.