Pierre Islam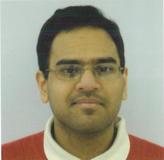 Primary field of interest:
Bio:
<br>
I attained my B.A in History with both general and departmental honors from the Johns Hopkins university in May 2009, and my experience there left an enduring mark on my research interests and the intended trajectory of my scholarly career. Specifically, Dr. Ronald Walter's course on the Civil War and his discussions of the role religion played in the thought of several black abolitionists, Frederick Douglass in particular, inspired within me a burning interest in the relationship between religion and African-American intellectuals. At Yale, I hope to study how these intellectuals (clergymen, theologians, writers, artists, and other such luminaries) interacted with religious thoughts and concepts, how and why they embraced it or rejected it, and how they conceived of different religions outside the faith traditions they were part of (or all religions, if they belonged to no faith at all). The timeframe my research will encompass is from the end of the Civil War to the end of the Cold War, which will allow me to examine how a wide range of wars and a fluctuating political climate may have impacted the religious thought of African-American intellectuals.
Over the course of my time at Yale, aside from the opportunity to study this subject in considerably greater depth, I am also very grateful for the opportunities I will have to accomplish several of my other academic goals. In particular I am very eager to prepare myself for teaching, especially working as a TA after my first years of study. I hope I am able to impart my enthusiasm for African-American religious and intellectual history specifically and American history generally to new generations of undergraduate students at Yale.