Zaib un Nisa Aziz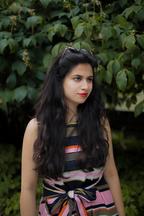 Primary field of interest:
Bio:
I am a second year doctoral student in global history. My research interests lie in anti-colonial thought and practice during the first half of the twentieth century. I look at international revolutionary networks featuring an eclectic group of campaigners, artists and intellectuals primarily emanating from the global south and active in cities in the metropole. I am interested in how various emancipatory projects during this period intersected with each other as well as how their practioners and propagators interacted with the state(s) in which they operated.
I am one of the coordinators of the International History Workshop 2017-2018 and I am also a co-organizer of the International History Working Group for graduate students interested in transnational research.
Prior to coming to Yale, I was at the London School of Economics where I completed an MSc in Empires, Colonialism and Globalization. My first paper based on my early graduate work is entitled Passages from India: Indian Anti Colonial Activism in Exile 1905-1920, was published by Historical Research in 2016. I am originally from Pakistan, and completed my BSc. in Political Science at the Lahore University of Management Sciences (LUMS). Please feel free to email me with any questions about graduate program in History at Yale.