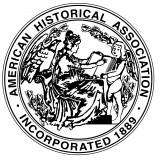 The American Historical Association announced the winners of its 2017 prizes, to be awarded at the 132nd annual meeting in Washington, DC, January 4–7, 2018. John Merriman will receive the Award for Scholarly Distinction to senior historians for lifetime achievement. The Raymond J. Cunningham Prize for the best article published in a history department journal written by an undergraduate student will be awarded to Maxwell Ulin (Yale Univ., BA 2017), faculty advisor: Glenda Gilmore (Yale Univ.), for "Dixie Turns Within: The United Nations and the Fall of Southern Internationalism," Yale Historical Review (Spring 2016).
The AHA offers annual prizes honoring exceptional books, distinguished teaching and mentoring in the classroom, public history, and other historical projects. Since 1896, the Association has conferred over a thousand awards. This year's finalists were selected from a field of over 1,300 entries by nearly 100 dedicated prize committee members. 
The ceremony will be held on Thursday, January 4, in the Omni Shoreham Hotel's Palladian Ballroom at 7:00 pm, immediately following the meeting's welcome reception.