Connor Williams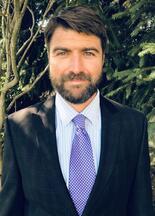 Bio:
Connor Williams has currently taken a leave of absence from Yale University while he works as Lead Historian in service of The Commission on the Naming of Items of the Department of Defense that Commemorate the Confederate States of America or Any Person Who Served Voluntarily with the Confederate States of America (more frequently known as "the Naming Commission").  As Lead Historian, Connor researches the history, causes and context of Department of Defense assets named for Confederates or the Confederacy.  He engages with both the general public and specific stake holding parties invested in the processes of naming, advises the Commission through historical briefings, and assists in the research and presentation of potential new namesakes to the Naming Commissioners.  This work culminates with Connor's assistance in drafting the Naming Commission's final report, which will be submitted to Congress and will recommend new names to the Secretary of Defense.  Honored by this opportunity for national service, Connor has paused his other scholarly pursuits, planning on completing them in Spring 2023.
Ever since a family friend gave him a book of pictures and poems about the Presidents at age 4, Connor Williams has been interested in American History.  Over the years that interest took many forms, and after completing his undergraduate studies at Middlebury College in 2009 Connor made it into a career, teaching US history, government, and literature to accelerated and AP students for five years in Indiana and Vermont.  He continues to have a deep interest and commitment to publicly oriented history, and has assisted museums with programming and presentations while also searching various archives for teachable documents on race and slavery in the Atlantic world.
Connor's dissertation, A Race on the Frontier: African American Lives, Labors, and Communities in Northern California, 1850-1915, exemplifies his current research interests.  The project examines the political struggles, economic opportunities, labor strategies, and networks of support African Americans forged throughout the Golden State in the years between the Gold Rush and the Great War. It seeks to understand why, in an area otherwise beset by racial animosity and white supremacy, by 1900 the average black Californian nevertheless controlled thirty-six times as much wealth and had secured far greater civil rights and social autonomy in comparison to his counterpart in the Deep South.
In explaining this history, Connor examines issues of political economy, environmental opportunity, educational possibilities, labor networks, and a frontier culture to ultimately argue that African American individuals, families, and organizations harnessed these varying aspects of Californian society to their benefit and over the machinations of white supremacist forces. His archives range from the ephemera of everyday life—personal receipts, school notebooks, grocery account books, church programs, and visiting cards— through more conventional correspondence and business records and into the speeches and maneuverings of political conventions, while also drawing from material culture and environmental history.
Connor came to Yale in 2015 after finishing a M.A. in Globalization Studies at Dartmouth College, where he wrote a thesis on diasporic and international influences upon Frederick Douglass' political vision and thought towards the end of his life.  A joint member of the History and African American Studies departments, Connor broadly studies 19
th
 century America with a particular focus on theories and practices of racial identity and identity formation in the fifty years following emancipation.  He is also pleased to work as a writing partner at the Yale College Writing Center and as a researcher for the Manuscripts and Archives division of Sterling Memorial Library.  Off the clock he can generally be found on the ice, whether playing hockey or skiing the tricky conditions of the east.
Connor lives in Hamden CT, with his wife and children, and they enjoy outdoor recreation when it's not winter as well.