Lamin Sanneh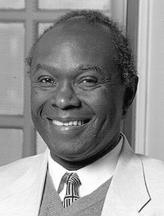 D. Willis James Professor of World Christianity, Divinity School; Professor of History
Office:
493 College Room 104, SDQ 321
Fields of interest:
History of religion in Africa; Cross-cultural studies; Religion, language & society; History of Islam
Bio:
Professor Sanneh is the author of over a hundred articles on religious and historical subjects, and of several books. Most recently he has published Abolitionists Abroad: American Blacks and the Making of Modern West Africa; Faith and Power: Christianity and Islam in "Secular" Britain (with Lesslie Newbigin and Jenny Taylor); and Whose Religion is Christianity? The Gospel Beyond the West. He has also written The Crown and the Turban: Muslims and West African Pluralism; Religion and the Variety of Culture: A Study in Origin and Practice; Piety and Power: Muslims and Christians in West Africa; and *– and is co-editor of The Changing Face of Christianity (forthcoming from Oxford University Press). He writes articles for scholarly journals, including Church History: Studies on Christianity and Culture; Newsletter of the International Institute for the Study of Islam in the Modern World (University of Leiden, The Netherlands); and The Encyclopedia of Politics and Religion. He is Honorary Research Professor in the School of Oriental and African Studies, University of London, and a life member of Clare Hall, Cambridge University. He was chairman of Yale's Council on African Studies. He is an editor-at-large of the ecumenical weekly The Christian Century and a contributing editor of the International Bulletin of Missionary Research, and he serves on the editorial boards of several academic journals and encyclopedias. He has served as consultant to the Pew Charitable Trusts. He is listed in Who's Who in America. He was an official consultant at the 1998 Lambeth Conference in London and is a member of the Council of 100 Leaders of the World Economic Forum. He was appointed by Pope John Paul II to the Pontifical Commission of the Historical Sciences, and by Pope Benedict XVI to the Pontifical Commission on Religious Relations with Muslims. He has received an award as the John W. Kluge Chair in the Cultures and Societies of the South by the Library of Congress. For his academic work, he was made Commandeur de l'Ordre National du Lion, Senegal's highest national honor, and is a recipient of an honorary doctorate from the University of Edinburgh, Scotland.
Read a feature article about Professor Sanneh.
---
Education
M.A., University of Birmingham (England)
Ph.D., University of London
---
Books
Disciples of All Nations:  Pillars of World Christianity (Studies in World Christianity) (Oxford, 2007)
Who's Religion is Christianity?  The Gospel Beyond the West (Eerdmans, 2003)
Abolitionists Abroad: American Blacks and the Making of Modern West Africa (Harvard University Press, 2000)
Faith and Power: Christianity and Islam in 'Secular' Britain, co-ed. (Wipf & Stock, 1998)
The Crown and the Turban: Muslims and West African Pluralism (Westview Press, 1997)
Piety and Power: Muslims and Christians in West Africa (Orbis Books, 1996)
Het Evangelie is Niet Los Verkrijgbaar (Kampen, Netherlands, 1996)
Religion and the Variety of Culture: A Study in Origin and Practice (Trinity Press International, 1996)
Encountering the West: Christianity & the Global Cultural Process: The African Dimension (Orbis Books, 1993)
The Jakhanke Muslim Clerics: A Religious & Historical Study of Islam in Senegambia (c.1250-1905) (University Press of America, 1990)
Translating the Message: The Missionary Impact on Culture (Orbis Books, 1989)
West African Christianity: The Religious Impact (Orbis Books, 1983)