Serena Strecker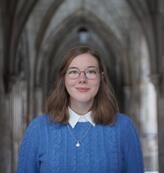 Research interests:
Late medieval and early modern Europe, religious history, media history, women's history, book history
Bio:
Serena is a fourth-year Ph.D. candidate in History studying media and the communication of theology in early modern Europe, particularly in German-speaking regions. Her research focuses on rhetorical and technological devices designed to overcome barriers to communication and make abstract theological claims relatable and comprehensible. Her dissertation research examines the content and structure of medieval and early modern exempla narratives to understand how Protestant and Catholic authors adapted the medieval tradition of exempla to transmit convergent and conflicting narratives of the good life, death, and the afterlife in order to persuade their parishioners to change how they lived. Her other interests include early modern rhetoric, medieval and early modern women monastics, and Latin American missions. 
Originally from rural Missouri, Serena graduated from the University of Chicago in 2020 with honors in both Interdisciplinary Studies in the Humanities and Germanic Studies. Her joint thesis on metaphors of communication in Martin Luther's Advent and Christmas Postils incorporated findings from archival research at the Reformationsgeschichtliche Forschungsbibliothek Wittenberg and received the 2020 McKenzie Prize in Germanic Studies.