Tess Lanzarotta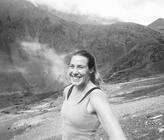 Primary field of interest:
Bio:
Tess's research explores the history of circumpolar health and biomedical research in Cold War Alaska. She is particularly interested in considering how biomedicine can operate both as a source of colonial power and as a site from which indigenous peoples articulate their demands for self-determination. In exploring this history, Tess's work sheds light on the ways that contemporary interactions between biomedical researchers and indigenous communities are shaped by their historical antecedents.
Before coming to Yale, Tess earned a BA in History and an MA in the History of Medicine from McGill University. Her Master's research focused on the role of concepts of gender in shaping the development of the disease paradigm of alcoholism, and she maintains an interest in the history of alcohol and drugs. 
Tess is a proud Canadian, who originally hails from Nanaimo, British Columbia. When not working on her research, she practices judo and Brazilian jiu jitsu.