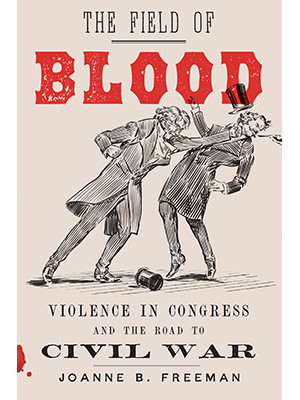 It took Yale historian Joanne Freeman 17 years and three worn-out desk chairs to write her latest book, "The Field of Blood: Violence in Congress and the Road to Civil War."
Freeman's book about violence in the antebellum Congress grew out of her interest in the history of honor culture in early America. When she started the book, she knew of only a handful of violent incidents in the House and Senate chambers, prominent among them the 1856 caning of Massachusetts abolitionist Charles Sumner.
A professor of history and of American studies at Yale, Freeman would go on to uncover 70 accounts of violence — most of them in the House or Senate chambers, and long lost to the historical record.
The Washington newspapers were a good source for Freeman. Reporters during the antebellum period would write versions of what they heard during sessions of Congress — not quite abstracts but not really verbatim, says Freeman. And they veiled the violence. "They would write, 'The debate became unpleasantly personal at one point.' Or, 'There was a sudden sensation in the corner of the chamber" — and I eventually came to realize that this kind of vague description often referred to physical violence. In the case of one "sudden sensation," two men began punching each other and flipped a desk. During one particularly "unpleasantly personal" encounter, one congressman pulled a gun on another. And a massive brawl featuring scores of men pummeling each other was summed up as: 'The House was like a heaving billow.'"
Read the full article at Yale News.