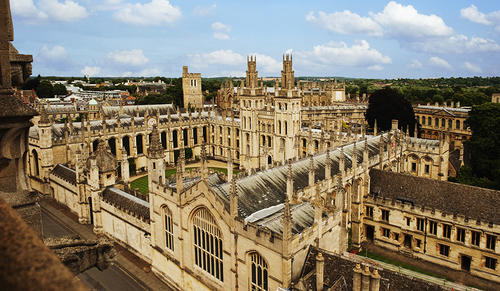 Yale seniors Rayan A.R. Alsemeiry, Eren Orbey, and history major, Riley S. Tillitt will head to Oxford University following graduation as Rhodes Scholars representing the United States. This is the third year in a row that a Yale History major has won the Rhodes Scholarship.  Past winners include Daniel Judt and Noah Remnick.
Rhodes Scholarships provide all expenses for study in England. They were created in 1902 by the will of Cecil Rhodes, and are "the oldest and best-known award for international study, and arguably the most famous academic award available to American college graduates," according to Elliot F. Gerson, American secretary of the Rhodes Trust.
This year more than 2,500 students sought their institution's endorsement; 880 were endorsed by 281 different colleges and universities, and 32 were named as U.S. Rhodes Scholars. Candidates are chosen for their academic excellence, personal energy, ambition for impact, and ability to work with others to achieve their goals, as well as their commitment to becoming a force for good in the world. "In short, we seek outstanding young men and women of intellect, character, leadership, and commitment to service," said Gerson.
The winning students "once again reflect the extraordinary diversity that characterizes the United States," noted Gerson. "Almost half of the winners are immigrants themselves or first-generation Americans." This was the first year that students whose immigration status is covered under Deferred Action for Childhood Arrivals (DACA) were eligible for the scholarship, and one winner this year is a DACA recipient.
Riley S. Tillitt
Tillitt, of Eden Prairie, Minnesota, is double majoring in history and ethics, politics, and economics. He is interested in reforming U.S. criminal justice and drug policies and has engaged deeply in public service related to criminal justice. He served as a member of the board of directors of Students for Sensible Drug Policy in Washington, D.C., and as the president of the Yale chapter. He was also the president of the Yale Model Congress and director-general of the Yale Model United Nations China. He served as a policy adviser for Connecticut Governor-elect Ned Lamont, focusing on drug policy. At Oxford, Tillitt will read for an M.P.P. in public policy and an M.Sc. in criminology and criminal justice.
https://news.yale.edu/2018/11/19/three-seniors-awarded-prestigious-rhodes-scholarships