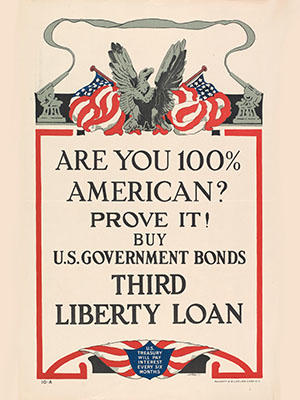 The black-and-white photograph shows four African American soldiers posed beside a solitary grave in the French countryside at the close of World War I.
An ornamental enclosure surrounds the grave, which is marked by a large decorative cross. It is the burial site of Quentin Roosevelt, a fighter pilot and the son of former President Theodore Roosevelt, one of the fiercest advocates for American involvement in the war. The Germans had buried the younger Roosevelt where his plane had fallen on July 14, 1918. The grave had become a pilgrimage site for American soldiers, who were drawn there by the dead man's famous name.
The image is featured in "An American and Nothing Else: The Great War and the Battle for National Belonging," an exhibition that opened on Feb. 12 in the Memorabilia Room at Yale's Sterling Memorial Library. Curated by Anna Duensing, a third-year Ph.D. student in the Department of History and the Department of African American Studies, the show examines the America's involvement in World War I from the perspective of the country's most marginalized residents, particularly African Americans and immigrant communities.