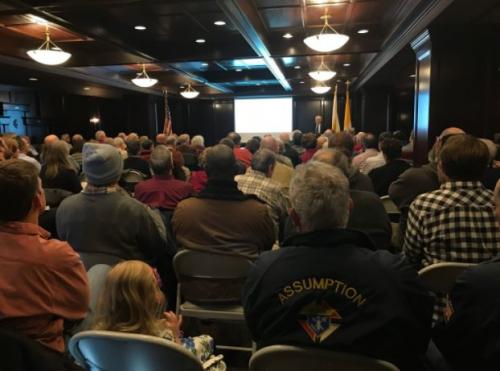 BRIANNA WU NOV 13, 2017 The Knights of Columbus Museum hosted Yale history professor Paul Kennedy on Saturday for a lecture on history's greatest wars and the memorials erected to commemorate them.
The lecture was given on Nov. 11, Veterans Day and the anniversary of the Armistice of Compiegne, the end of the fighting on the Western Front during World War I. Kennedy's talk was part of a lecture series designed to accompany the World War I exhibit currently on display at the Knights of Columbus Museum on State Street.
"This is supposed to be a deep reflection on the First World War and where we are as a nation a century after," he said.
Kennedy drew much of his subject material from his book "The Rise and Fall of the Great Powers," which celebrates its 30th anniversary this year. Kennedy also discussed war tributes, from looming marble sculptures to coins, poetry and songs.
Read the full article at Yale Daily News.