Amanda Joyce Hall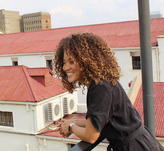 Bio:
Amanda Joyce Hall is a Ph.D. Candidate in the Departments of History and African American Studies at Yale University. This year, she is a Dissertation Fellow in the Department of Black Studies at the University of California, Santa Barbara. Her dissertation is an international history of the grassroots movement against South African apartheid during the 1970s and 1980s. She samples the anti-apartheid movements led by students, civil servants, musicians, exiles, community organizers as they shut down Springbok rugby tours in Aotearoa/New Zealand, developed soundtracks of resistance, demanded divestment from multi-national corporations in the U.S., and celebrated the repatriation of the African National Congress (ANC) in South Africa as a triumphant symbol of their enduring efforts to dismantle color lines that were drawn both locally and internationally. By examining these efforts as a call and response that dialogued with the internal liberation struggle, she uncovers the complexities of coalition-building, solidarity work, and the multivalent forms of anti-apartheid resistance as extensions of antiracist, socialist, land rights, and women's liberation struggles. Her cross-border research, which draws on archival work and oral histories from four continents, is supported by the U.S. Fulbright Program, the Ford Foundation, the Mellon Mays Undergraduate Foundation, the Society for Historians of American Foreign Relations (SHAFR) as well as the History Department, MacMillan Center, and International Security Studies at Yale.
Amanda is also committed to engaging broader methodological and epistemological frameworks through her work in the Digital Humanities and public history. As the Principle Investigator of the Pauli Murray "Digiography" she develops a new methodological tool for examining and chronicling the activist lives of Black women. As a host of the New Books Network podcast channel in African American Studies, Amanda amplifies the works of scholars working at the intersections of race, ethnicity, and Black internationalism. 
Amanda holds master's degrees in International and World History from Columbia University and the London School of Economics, where she wrote her thesis on the international student anti-apartheid movement. She has also earned a master's degree in Education from Fordham University in New York City, where she was a special education teacher for the Department of Education. Amanda received her AB in Classics and International Studies from Dartmouth College in 2011. She is from Chicago, Illinois.