Bayan Abubakr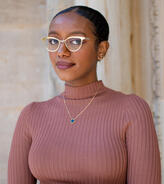 Research interests:
Afro-Arab histories, Ottoman history, Sudanese studies, transregional studies, and histories of slavery & race
Bio:
Bayan's research centers trans-Saharan histories of slavery and circuits of capital in the formation of 19th-century Arabism & Blackness in the Afro-Arab world. Her dissertation, "The Forty Days' Road & the World Around It: Race, Slavery, and Society in Ottoman-Egyptian Sudan, 1840-1924," examines how the movement, experiences, and networks of enslaved peoples and slave-trading merchants in Ottoman-Egyptian Sudan along trans-Saharan trading routes influenced the way they racialized themselves and were themselves racialized. She also asks how these processes structured the governance of Ottoman-Egyptian Sudan and informed the making of Ango-Egyptian Sudan (1899-1956). Bayan reads Ottoman Turkish, Arabic, and English archival sources alongside oral histories conducted in Sudan to examine histories of slavery in Ottoman-Egyptian Sudan as constituent elements of the economic and intellectual routes comprising the trans-Saharan caravan trade. 
Bayan's research has been generously funded by the Yale Center for the Study of Race, Indigeneity, and Transnational Migration; Yale Graduate School's Dean's Emerging Scholars Fellowship; the Whitney and Betty MacMillan Center for International and Area Studies at Yale; the Gilder Lehrman Center for the Study of Slavery, Resistance, and Abolition; the American Research Institute in Turkey; the Council of American Overseas Research Centers' Multi-Country Fellowship; and the Social Science Research Council's International Dissertation Research Fellowship, with funds provided by the Mellon Foundation.
Prior to Yale, Bayan graduated magna cum laude with high honors in History and a minor in Politics from NYU. Please feel free to contact Bayan if you have any questions about the doctoral program of History at Yale and/or Sudanese studies.