Burton Westermeier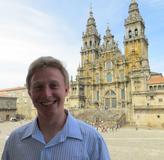 Bio:
I am a sixth-year PhD candidate studying the political, religious, and social history of medieval Europe. My particular interests include the study of bishops and the secular clergy, urban history, and the history of Iberia in the High and Late Middle Ages with an emphasis on the Crown of Castile.
My dissertation, entitled "Bishops and Towns in Medieval Castile, c. 1230-1350," examines how the contentious relationships between prelates and the urban communities over which they ruled as both secular lords and spiritual fathers shaped the social, political, and religious landscapes of Castile between the reigns of Fernando III and Alfonso XI. To complete this project, I have consulted materials in archives throughout Spain including Palencia, Santiago de Compostela, and Toledo with support from Yale's MacMillan Center for International and Area Studies. I have also received a Foreign Language and Area Studies (FLAS) Fellowship to study Portuguese at the University of Chicago.
I serve as a curatorial assistant at the Beinecke Rare Book and Manuscript Library and I am an instructor for an annual workshop series on Digital Editing and the Medieval Manuscript Roll/Fragment which centers on teaching TEI coding techniques to graduate students in order to enable them to create digital editions of medieval manuscripts.
Originally from Boise, ID, I graduated from the University of North Carolina at Chapel Hill in 2014 with a B.A. in History and Religious Studies and a minor in Latin. Subsequently, I studied postclassical Latin at the University of California at Los Angeles as the recipient of an Andrew W. Mellon Fellowship.