Carl Rice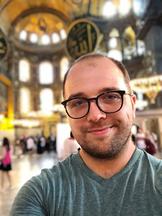 Bio:
Carl "CJ" Rice is a doctoral candidate in the combined program in history and classics. CJ graduated from West Virginia University in 2013 with Bachelor's degrees in history and religious studies. CJ then completed a Master's degree in history at North Carolina State University in 2016.
CJ's dissertation project, titled "Religio Licita: Empire, Religion, and Civic Subjects, 250-450 CE," examines the social and legal subjectivity of late Roman citizens in order to define the connection between religious and political power. In his dissertation, CJ explores various forms of discipline and punishment in the Roman imperial state, such as social degradation, limitations on property rights, and restricted legal jurisdictions. He argues that the late Roman imperial state increasingly classified its subjects based on their relationship to conceptions of normative religio–the matrix of ideas and practices that constituted the associations between humanity and the divine. 
CJ is also interested in gender and sexuality studies in the late Roman world, as well as developing various approaches to 'doing' critical ancient history and teaching in the modern classroom.
Feel free to contact him at carl.rice@yale.edu.