Denise Ho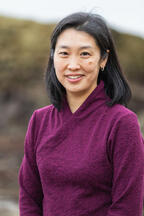 Associate Professor of History
Fields of interest:
Modern China, Cultural Revolution, borderlands, urban history
Bio:
Denise Y. Ho is associate professor of twentieth-century Chinese history at Yale University.  She is an historian of modern China, with a particular focus on the social and cultural history of the Mao period (1949-1976).  She is also interested in urban history, the study of information and propaganda, and material culture.  More recently, she is examining the history of the border between Hong Kong and China—Bao'an County, or today's Shenzhen. 
Ho teaches undergraduate courses on modern and contemporary China, the history of Shanghai, the uses of the past in modern China, and the relationship between Hong Kong and China.  Her graduate courses include the historiography of the Republican era and the People's Republic, as well as an interdisciplinary seminar called "China at its Borders."
She is the author of Curating Revolution: Politics on Display in Mao's China (Cambridge, 2018) and co-editor of Material Contradictions in Mao's China (University of Washington, 2022).  She also co-edited a special issue entitled "Transformation of Shen (zhen)-(Hong) Kong Borderlands" (Made in China Journal, 2020), and contributed to the website The Mao Era in Objects.  Ho is currently writing a grassroots history of the Hong Kong-China frontier entitled Cross-Border Relations. 
Denise Y. Ho received her B.A. in history from Yale College and an A.M. and Ph.D. in history from Harvard University.  She is a member of the fifth cohort of the Public Intellectuals Program of the National Committee on U.S.-China Relations. 
Selected Publications
Books and Special Issues
Refereed Articles and Peer-Reviewed Chapters

   
"Oysterman and Refugee: Hong Kong and China Between the Tides, 1949-1997." Accepted for publication, The American Historical Review.

"Outside Objects and Material Propaganda," in Material Contradictions in Mao's China, edited by Jennifer Altehenger and Denise Y. Ho.  Seattle: University of Washington Press, 2022, pp. 125-145. 

"Making a Revolutionary Monument: The Site of the First National Congress of the Chinese Communist Party," in Red Legacies in China: The Afterlives of the Communist Revolution in Contemporary Chinese Culture and Society, edited by Jie Li and Enhua Zhang.  Cambridge, MA: Harvard University Asia Center, 2016, pp. 25-55. 

"From Landlord Manor to Red Memorabilia: Reincarnations of a Chinese Museum Town," co-authored with Jie Li.  Modern China, Volume 42, Issue 1 (2016), pp. 3-37.

"Culture, Class, and Revolution in China's Turbulent Decade: A Cultural Revolution State of the Field."  History Compass, Vol. 12/3 (2014), pp. 226-238.

"Reforming Connoisseurship: State and Collectors in Shanghai in the 1950s and 1960s" (改造文物鉴赏:1950-1960年代政府与文物收藏家的博弈).  Frontiers of History in China, Volume 7, Issue 4 (2012), pp. 608-637. 

"Revolutionizing Antiquity: The Shanghai Cultural Bureaucracy in the Cultural Revolution, 1966-1968." The China Quarterly, no. 207 (September 2011), pp. 687-705. 
"Why Should Americans Care About Hong Kong?" with Jeffrey Wasserstrom, in The China Questions, Second Edition, edited by Michael Szonyi, Jennifer Rudolph, and Maria Adele Carrai.  Cambridge, MA: Harvard University Press, 2022. 
"Postscript." The PRC History Review Vol. 6, No. 3 (September 2021) "PRC History in the Era of COVID, Censorship, and Sino-US Confrontation."
"Museums and Exhibitionary Culture in Twentieth-Century China," Oxford Research Encyclopedia of Asian History, published online February 23, 2021, pp. 1-26. 
"Hong Kong, China: The Border as Palimpsest," Made in China Journal, Vol. 5, Issue 3 (September-December 2020), pp. 94-101.
"From Confiscation to Collection: The Objects of China's Cultural Revolution," in The Oxford Handbook of History and Material Culture, edited by Sarah Carter and Ivan Gaskell.  New York: Oxford University Press, 2020, pp. 355-376. 
"AHR Conversation: Museums, History, and the Public in a Global Age," in The American Historical Review, Vol. 124, Issue 5 (December 2019), pp. 1631-1672.    
"Teaching China's Cultural Revolution."  The PRC History Review, Vol. 4, No. 2 (August 2019), pp. 24-26. Revised and Updated in Vol. 6, No. 4 (October 2021).  
"博物馆: Museum," in Afterlives of Chinese Communism, edited by Christian Sorace, Ivan Franceschini, and Nicholas Loubere.  Acton: ANU Press and Verso Books, 2019, pp. 141-148.