Elizabeth Buckheit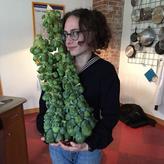 Research interests:
Early Modern Religion, History of Political Thought and Tomfoolery
Bio:
Elizabeth Buckheit is a doctoral candidate in History. Her dissertation focuses on the changing use of the Second Commandment through the 17th century, exploring how Christian interpretations of 'monotheism' and 'idolatry' shaped emerging conceptions of citizenship, naturalization, and treason. Elizabeth is curious how, amid the post-Reformation ruins, Christians weaved their understandings of Judaism and the Old Testament, historical and legal thought, and early  anthropology into the narrative undergarments of current political systems. More broadly, she is interested in Christian Hebraism, Jewish and Roman law, biblical texts, and taking religion seriously in the history of political thought. For her work, Elizabeth has won some cool grants/awards and has not won others. She has not won a MacArthur Fellowship.
Originally from rural Minnesota, Elizabeth obtained a BA in Politics from Durham University (2016) and an MA in the History of Political Thought and Intellectual History jointly from UCL and QMUL (2017). Before and during her time at Yale, she has made tasty drinks  at Goodbye Blue Monday Coffeehouse and Bakery in Northfield, Minnesota. In her free time, Elizabeth enjoys wishing her colleagues were Labrador Retrievers, reading books with kindergarteners, and drawing silly lil' pictures (@lizard.bucket).