Emily Hurt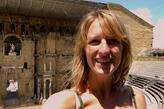 Bio:
Emily is a Roman historian interested broadly in conquest and encounters with other communities during the Republican period including questions of colonization, civic identity, ethnography, memory, and mythmaking. Her dissertation, Palimpsest Cities of the Roman Empire focuses on the destruction and refoundation of cities. It examines cities that were destroyed in the period from the fourth to the second centuries BCE and the long literary and physical afterlives of their refoundations.
She has traveled extensively for research in the Western Mediterranean, excavated in Italy, and worked with the numismatic collection at Corinth. Her work on the afterlives of Roman cities has allowed her to indulge a wide variety of interests beyond antiquity such as nineteenth century letters and travelogues and twentieth-century Italian cinema.
Emily is a Rome Prize Fellow at the American Academy at Rome and a H.S Robinson Fellow at the American School for Classical Studies at Athens.