Holden Zimmerman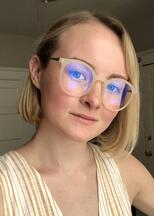 Research interests:
International history; modern humanitarian history; gender and sexuality; modern Japanese history
Bio:
Holden Zimmerman (she/her) is a third-year Ph.D. student in International History with a regional specialization in Western Europe and Japan. Her research focuses on the history of the Red Cross movement in the late 19th and 20th centuries with a focus on internationalism, nationalism, gender, and humanitarianism. She has passed her exam fields in 20th Century International History, Modern European History, Modern Japanese History, and Gender and Sexuality in Modern Europe. Her dissertation is tentatively titled: "The Japanese Red Cross in Global Perspective: Nation, Empire, and Nurses."
Holden's dissertation connects the histories of humanitarianism, gender, and Japan's role on the global stage through a study of Japan and the international Red Cross movement. Not only was Japan the only non-European "Great Power" and signatory of the Geneva Convention in the late nineteenth century, its role as a key member of one of the world's most recognizable NGOs made it a model for medical modernization globally. To foreign observers in the 1890s, the Japanese Red Cross's wartime relief systems made it a global model for military medical advancement and citizen mobilization. Furthermore, her work highlights women's active participation in international projects like the Red Cross movement through their roles as nurses. The JRC sought to bring women into the nation-building project by expanding their traditional roles as caregivers in the home to include nursing the nation's army. While universal male conscription, in theory, mobilized all men for the nation-state as soldiers, JRC female nurses became a symbol of state-sanctioned femininity, with a woman's duties tied now to her country's wounded soldiers in addition to her husband and children in the home islands as well as in the wider empire.