Isin Taylan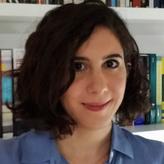 Bio:
Isin Taylan is a seventh-year Ph.D. candidate in the Department of History at Yale University.
She studied Social and Political Sciences with a minor in Art Theory and Criticism at Sabancı University and Sciences Po Paris. She holds MA degrees in History from Central European University and Sabancı University.  During her studies at CEU, her work on the Ottoman translations of Gustave Le Bon culminated in her masters thesis, "Reading and Translating Gustave Le Bon in the Late Ottoman Empire: The Translations of Abdullah Cevdet and Mehmet Fuad". 
At Yale, she has worked on Early Modern Mediterranean history and Medieval-Early Modern Italian history with Francesca Trivellato, the methodology of intellectual history with Sophia Rosenfeld, and history and geography with William Rankin, complementing her formation in Ottoman history under the supervision of Alan Mikhail. She advanced to candidacy in summer of 2017 and she has conducted research in the manuscript libraries in Turkey and across Europe. Her research has been funded by Macmillan Center at Yale University, the Gerda Henkel Foundation, and the Max Kade Foundation.
Currently, she is completing her dissertation "A History of the Atlas: Material Culture and Science in the Ottoman Empire," which is the first comprehensive study of the atlas in the Ottoman Empire. She has a forthcoming article in Imago Mundi: The International Journal for the History of Cartography which introduces early Ottoman atlases as a source for the history of cartography. She is a recording team member and host at the Ottoman History Podcast and contributor to GeoCistern, a digital humanities project on geographical knowledge in the Ottoman Empire.