James Shinn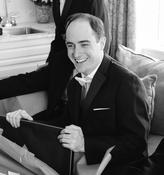 Lecturer, Graduate School Alumni Fellow
Fields of interest:
19th-century U.S. history; Civil War and Reconstruction Era; U.S. foreign policy; 19th-century Caribbean history
Bio:
James Shinn is a 2020-21 Graduate School Alumni Fellow and Lecturer in the Department of History. A historian of the 19th-century United States in the world, his interests include the Civil War and Reconstruction, the history of U.S. foreign policy, and the history of U.S. imperialism (especially in the Caribbean).
Shinn earned his PhD in History from Yale in May 2020. His dissertation, "The Cuban Question: The Ten Years' War and the Reconstruction of U.S. Foreign Policy, 1865-1878" uses an important but little-known debate about U.S. intervention in the Cuban independence struggle to explore how post-Civil War Americans thought about their country's place in the global order. "The Cuban Question" received the 2020 Edwin W. Small Prize from the Yale University Department of History.
Shinn's most recent publication is "The 'Free Cuba' Campaign, Republican Politics, and Post-Civil War Black Internationalism, 1869-1874," which appeared in Van Gosse and David Waldstreicher, eds., 
Revolutions and Reconstructions: Black Politics in the Long Nineteenth Century 
(Philadelphia: University of Pennsylvania Press, 2020). Shinn has published book reviews in 
Slavery & Abolition
, 
Civil War Monitor
, 
The Journal of Military History
, and other journals.