Laurel Waycott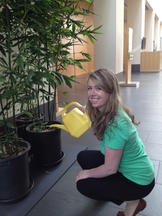 Primary field of interest:
Bio:
Laurel studies the histories of science, art, and material culture in the nineteenth and early twentieth centuries. She works on the history of natural history, museums, material culture, and the human relationship with the natural world. Her dissertation focuses on the role of aesthetics in scientific reasoning between 1870 and 1920, specifically how the concept of "pattern" migrated from the world of craft into the world of science around the year 1900. By combining approaches from material culture and the history of science, her work reveals the role aesthetics has played in the rise of abstract scientific thinking. Furthermore, the project demonstrates how our current age of algorithmic reasoning and "pattern recognition" has its roots in late nineteenth century attempts to understand and discipline the natural world.
Laurel has a B.A. (highest honors) in the history of art and visual culture from the University of California, Santa Cruz, and an M.A. in the history of decorative arts, design and culture from the Bard Graduate Center in New York. Her M.A. thesis, which was granted the Clive Wainwright Thesis Award, explored the history of the domestic aquarium and how Americans collected, displayed, and discussed aquatic plants and animals between 1850 and 1920. Before coming to Yale, Laurel worked in exhibition planning at the Asian Art Museum of San Francisco and as an art historian with the Art Loss Register in New York. 
Research areas:
History of natural history/life sciences; history of craft/technology; material and visual culture; American cultural history before 1945
University of California at Santa Cruz, B.A.; Bard Graduate Center, M.A.