Leo Krapp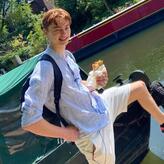 Research interests:
Histories of Testing & Meritocracy; Postwar America & China; Anthropologies of Capitalism; Modernity & Disenchantment; Historical & Dialectical Materialism
Bio:
Leo is a Master's student in History of Science and Medicine. His research focuses on the history of the evaluation and quantification of human ability in mid-20th century America and China and the meritocratic logics of governance that emerged concomitantly, with a specific focus on standardized tests and college admissions. He is especially interested in the implications of the construction of meritocratic regimes of truth for capitalism, liberalism, theories of modernity, and the supposed "End of History." He uses a comparative assessment of China and America to consult the relationship between intellectual history, economic anthropology, and the future of political ideology. 
Originally from California, he graduated on the Dean's list from University College London with a BSc in Anthropology, where he played tennis and worked on economic anthropologies of capitalism and meritocracy. He has also published for
Damage Magazine
 and
Viking Tech Law
.