Maya Sandler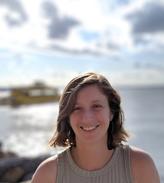 Bio:
Maya Sandler is a doctoral candidate in the History of Science and Medicine. She studies histories of medicine, caregiving, and bureaucracy in the twentieth-century United States. Her dissertation explores the efforts of health activists to shape safety-net healthcare programs and policies from the 1960s through the 1990s. The project traces the racialized and gendered experiences of chronic illness, aging, and daily care work that informed both the visions and infrastructures that activists developed.
She is a co-coordinator of the History, Health, and Humanities Working Group at Yale, which brings together participants from across the university to think critically about questions of social justice in medicine through a historical lens. She has also worked as a Yale College Writing Partner through the Center for Teaching and Learning, supporting first-year and visiting undergraduates in their academic writing.
Maya is from Oakland, California, and graduated with a BA in Human Biology from Brown University. Before arriving at Yale, she worked in open-access scientific publishing.