Micah Jones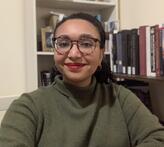 Research interests:
African American History; Southern History; Black Women's History, Social Movement History, History of Consumption
Bio:
Micah Jones is a Ph.D. candidate in Departments of History and African American Studies. Her dissertation, "Jim Crow Prerogatives: Race and Consumption in the South, 1890-1980," explores the relationship between food shopping and race in the Southern United States. Southern grocery stores were spaces of quotidian interracial encounter within a segregated society, and, as such, were central sites of race-making. As a result, grocery stores were an important battleground in the Black freedom struggle as Black southerners sought to shape their roles as workers, customers, and business owners. The grocery industry was at the forefront of broader transformations in retail, including the rise of chain stores and self-service, and the emergence of mass consumption in the 20th century United States. As consumption came to play an increasing role in defining and shaping what it meant to be a citizen, grocery stores played a major role in defining what it meant to be a consumer. This project takes grocery stores as a starting point to explore the evolving relationship between race, consumption, and citizenship in the 20th century South.
Jones is a recipient of the 2022-2023 Ford Foundation Dissertation Fellowship. She received Honorable Mention from the Center for Engaged Scholarship for its 2022-2023 Dissertation Fellowship. Her scholarship has also been funded by the Yale Dean's Emerging Scholars Fellowship and John Morton Blum Fellowship.
Prior to pursuing her Ph.D. at Yale, Micah completed her B.A. in History and African American Studies at Yale in 2016. Her senior essay, "To Live for the Revolution: The Student Nonviolent Coordinating Committee and the Birth of Black Power Feminism," reexamines the role of gender in shaping the organizing practices of the Student Nonviolent Coordinating Committee. She received the Wrexham Prize, which honors the senior who has written the best senior essay in the field of the humanities.