Milosz Wlodzimierz Wiatrowski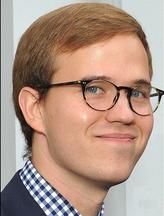 Bio:
I am a PhD candidate in History specializing in late 20th century intellectual history. My primary research concerns transnational history of neoliberalism, in particular within the context of the end of the Cold War. In my dissertation, I hope to trace the intellectual history of the "Solidarność" movement in Poland by focusing on the radical shift among many of its main advisors away from their Marxist and social-democrat roots and towards a staunch support of the free market.  My broader academic interests include history of economic ideas, political economy, political theory, and philosophy of science.
Prior to starting my PhD, I worked in academia and for international organizations. I was a consultant at the Development Cooperation Directorate at the OECD, where I advised on infrastructure investments, and I completed a traineeship at the European Commission (DG Competition, State Aid Policy Unit), as well as an internship at the World Bank office in Paris. I studied at Sciences Po Paris (MA in International Economic Policy, BA in social sciences), at Universität St. Gallen (MA in International Affairs and Governance) and at the College of Europe (MA in European Economic Studies – European Law and Economic Analysis).
My free time consists mostly of getting worked up about our current predicament, engaging in angry monologues about it, and watching sports.