Mireille Pardon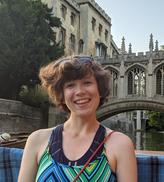 Bio:
Mireille J. Pardon is a social and cultural historian interested in violence, social control, and judicial ritual in late medieval Europe. From 2017-2018, she was a visiting international scholar at the Katholieke Universiteit Leuven in Belgium, supported by a Belgian American Education Foundation Fellowship. Her dissertation, "Tropes of Violence and the Changing Landscape of Urban Justice in Late Medieval Flanders," shows how cultural ideas about crime influenced judicial practice in fifteenth-century Flemish cities. She argues for a cultural shift in the perception of lethal violence that presupposed the formal legal changes that encouraged execution over rituals of reconciliation. Her work has been supported by Yale's MacMillan Center for International and Area Studies and the American Association for Netherlandic Studies. 
Adjacent to her dissertation research, she is interested in gender and dehumanization in medieval and early modern judicial rituals, particularly in relation to the animal/human divide and ecocritical approaches to legal history. She also serves as a co-coordinator for Digital Editing and the Medieval Manuscript Roll/Fragment, a long-term project that runs workshops teaching TEI encoding techniques to graduate students and creates digital editions of medieval manuscripts. 
Originally from North Carolina, she graduated from Princeton University with a B.A. in History in 2014.