Monique Ulysses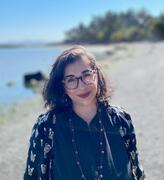 Bio:
Monique Flores Ulysses is a doctoral candidate in the Department of History. In her dissertation, "Categorizing Mexican Migrant Race and Citizenship in the United States, 1910s-1930s," she analyzes how U.S. and Mexican self-described experts understood the racial meaning of Mexicanness and how their race-making shaped politics and culture in the United States. The dissertation charts four separate spheres of race and immigration expertise that shaped understandings of Mexican racialization in the United States from the 1910s through the late-1930s: immigration bureaucracy, anthropology, economics, and eugenics.
Monique's doctoral work is funded by the Social Sciences and Humanities Research Council of Canada (SSHRC) as a Doctoral Fellow alongside support from the Yale Center for the Study of Race, Indigeneity, and Transnational Migration (RITM) and the John Morton Blum Fellowship for Graduate Research in American History and Culture, among other sources.
Alongside her dissertation research at Yale, Monique has worked as a Teaching Fellow in History, American Studies, Ethnicity, Race, & Migration, and History of Science and Medicine.
Before moving to the United States to begin her studies at Yale University, she received her Bachelor of Arts (Honours) in History and Environmental Studies from the University of Victoria in 2014, and her Master of Arts from the Department of History and Classical Studies at McGill University in 2015.