Nicholas Parrillo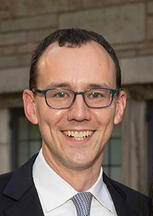 William K. Townsend Professor of Law; Professor of History
Office:
Sterling Law Building L-34
Fields of interest:
Legal history; history of the administrative state; political development
Bio:
Nicholas R. Parrillo is William K. Townsend Professor of Law at Yale, with a secondary appointment as Professor of History.  His article "A Critical Assessment of the Originalist Case Against Administrative Regulatory Power," published in the Yale Law Journal in 2021, recreates the U.S. federal property tax system of the 1790s, providing new evidence that the Constitution in its earliest years allowed for a powerful federal bureaucracy.  Parrillo's book, Against the Profit Motive: The Salary Revolution in American Government, 1780-1940 (New Haven: Yale University Press, 2013), received the Hurst Prize of the Law and Society Association for the year's best book on legal history, as well as the Annual Scholarship Award of the ABA Section on Administrative Law for the year's best book or article on administrative law. The book shows how American lawmakers remade governance by shifting public officers' monetary compensation away from profit-seeking arrangements—such as fees-for-service and bounties—and toward fixed salaries. (Read the book's introductory chapter. Watch a talk about the book.)  Parrillo's article "Leviathan and Interpretive Revolution: The Administrative State, the Judiciary, and the Rise of Legislative History, 1890-1950" received the Cromwell Article Prize of the American Society for Legal History for the year's best article on American legal history by an early-career scholar.  Beyond history, Parrillo's works on present-day administrative power have been published in venues like the Harvard Law Review, served as the support for best practices adopted by the Administrative Conference of the United States, and provided the basis for Parrillo's testimony before Congress (video).  Parrillo is a recipient of Yale Law School's annual teaching award, conferred according to a competitive vote of the student body. He holds a J.D./Ph.D. in American Studies from Yale.