Orel Beilinson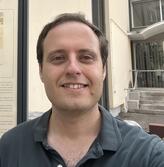 Bio:
Orel Beilinson is a historian of modern Europe and the Middle East. His dissertation, "Tomorrow Belongs to Me: Coming of Age in the Other Europe, 1813–1914," is a history of young adulthood in an age of industrialization, liberalism, and mass politics. The dissertation's defense is scheduled for November 2023. His research creates historiographical bridges between territories once covered by three empires – the Austria-Hungarian, Russian, and Ottoman empires – utilizing sources in two dozen languages. A committed comparativist, his methodologies draw on historical sociology, comparative literature, and historical linguistics.
His research was presented and published on both sides of the Atlantic. His most recent articles are "
Social Stratification and Career Choice Anxieties in Nineteenth-Century Central Europe
" (
Journal of Social History
) and "
What is Austro-Hungarian History to the Eurasianist?
" (
Journal of Austrian Studies
)
.
His forthcoming publications include essays in the
Oxford Research Bibliographies in Education
and
Oxford Research Encyclopedia in Education
, as well as a cluster on Suicide, War, and the Military in East-Central Europe, 1918–1945, co-edited with John Paul Newman (Maynooth University) in
Slavic Review
. Since 2023, Orel has been a contributing editor to
The Year's Work in Modern Language Studies
, where he covers works on language and linguistics in Czech and Slovak; Serbian, Croatian, Bosnian, and Montenegrin; Slovene; Bulgarian and Macedonian.
Orel's research benefitted from generous support. Institutional support includes Yale's European Studies Council, the Program in Russian, East European, and Eurasian Studies, and the Center for the Study of Race, Indigeneity, and Transnational Migration. Outside Yale, he received grants from the Visegrad Fund, Archives Portal Europe, and the DE-Bias Project. He has held visiting fellowships at the Institute for Human Sciences in Vienna (Fall 2022), the Institute of Contemporary History in Ljubljana (Summer 2023), Scuola Normale Superiore in Pisa (Fall 2023), and the Institute for Social Sciences at the University of Lisbon (Spring 2024). 
Orel received his B.A. (2019) in general history from Tel Aviv University and his M.A. and M.Phil. in Russian and Eastern European history from Yale University (2021). Before coming to Yale, he spent his military service teaching Middle Eastern Studies and languages. His teaching at Yale included twentieth-century European history, intellectual history, thesis writing in the humanities and social sciences, and the Humanities program's Life Worth Living seminar.