Salonee Bhaman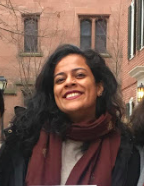 Bio:
Salonee Bhaman is a PhD Candidate in the Department of History and program in Women, Gender, and Sexuality Studies. Her research interests focus on histories of   race, gender, social welfare, migration, and labor in the twentieth century United States.
Her dissertation, entitled "The Borders of Care: Immigration, Welfare, and Intimacy in the Era of AIDS," explores struggles for social provision and the politics of care work during the first years of the HIV/AIDS epidemic. 
Her work has been generously supported by the Fund for Lesbian and Gay Studies, the John Morton Blum Fellowship, the RITM program at Yale, the ONE Archives Foundation, and the  Phil Zwickler Memorial Research Fellowship at Cornell. 
At Yale, she is a member of the Yale Working Group on Globalization and Culture, the Carceral Studies Working Group, and Women and Gender Studies Working Group and Colloquium. Away from Yale, she leads historical walking tours of New York City and a member of the NYC Asian American Feminist Collective leadership committee. 
She received a B.A. in History with honors from Columbia University in 2014.