Samuel Severson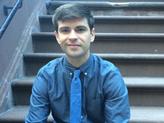 Bio:
Sam Severson is a doctoral candidate specializing in the social and intellectual history of Southern Africa. Sam's fascination with the subcontinent grew while working as a teacher with Peace Corps in Thaba Tseka, Lesotho from 2007-2009.
Sam's dissertation explores the development of disciplinary institutions on the Highveld over the nineteenth and twentieth centuries. He examines the processes of socialization and technological innovation which took place within an array of sites, including cattle-posts, colonial prisons and jails, and closed work compounds. He examines how these developments interfaced with shifting discourses on labor, race, and good governance. Sam's research has received support from the U.S. Dept. of Education, and Yale's Council of African Studies and MacMillan Center. Robert Harms and Daniel Magaziner are supervising Sam's dissertation.
Sam has a B.A. in Political Science from Macalester College, and an M.A. in World History from Northeastern University.