Sarah Ifft Decker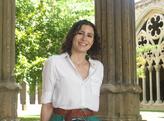 Primary field of interest:
Bio:
<br>
I am a doctoral candidate in Medieval History, with particular interests in social and economic history, gender, religious difference, and the Western Mediterranean. My dissertation focuses on the ways in which Jewish and Christian women participated in the management of family finances in three Catalan cities, Barcelona, Girona, and Vic, between 1250 and 1350. Relying primarily on notarial registers, I explore what legal, social, and economic structures constructed women's relationship to financial resources, and how this relationship manifested itself in women's public economic transactions, with particular attention to the differences and similarities between Jewish and Christian women.
My first article, "Conversion, Marriage, and Creative Manipulation of Law in Thirteenth-Century Responsa Literature" (Journal of Medieval Iberian Studies 6:1, 2014, pp. 42-53), addresses questions of gender and religious difference in an unusual rabbinic responsum, in which a married Jewish woman converted to Christianity, relocated to a new city, and began to live with her lover as Jews and as a married couple. I argue that this woman creatively manipulated legal and social norms to impart legitimacy to her adulterous relationship.
My committee includes Paul Freedman (chair), Ivan Marcus, Francesca Trivellato, Rebecca Winer (Villanova University), and Anders Winroth. Generous financial support from the International Dissertation Research Fellowship of the Social Sciences Research Council, the Elka Klein Memorial Travel Grant, the Salo W. and Jeannette M. Baron Research Grant from the Yale Program for the Study of Anti-Semitism, and the Yale MacMillan Center have allowed me to conduct archival research in Catalonia.
I received my B.A. with highest honors in Medieval Studies, with minors in History and Latin, from Swarthmore College in 2009. In 2011, I completed my M.A. in Medieval Jewish Studies at the Jewish Theological Seminary.