Taylor Rose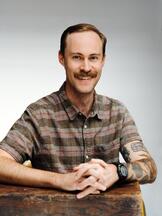 Research interests:
U.S. West, Native American History, Indigenous Studies, Environmental History, Environmental Humanities, History of Technology and Infrastructure
Bio:
Taylor is a doctoral candidate in the History Department. He studies U.S. history and Native American history from the 1840s to the present with a particular focus on public lands, resource extraction, militarization, and environmental justice.
His dissertation examines the relationship between national defense infrastructure development, Native land dispossession, and the transformation of the Nevada desert. He is the recipient of the 2020-1 AHA/NASA Fellowship in Aerospace History and is active in Yale Environmental Humanities and Yale Environmental History. Recently, his research has been featured in the 
Los Angeles Times
, 
Zócalo Public Square
, and 
AHA Perspectives Daily
.
In the past, he has researched and written on topics including logging roads in the Pacific Northwest and the politics of noise pollution in 1960s New York. You can find his latest article, "The Opening of the Clackamas: Log Trucks, Access Roads, and Multiple-Use Infrastructure in Oregon's National Forests," in the May 2022 issue of the Western Historical Quarterly.
Taylor was born in San Diego, California, grew up in Orlando, Florida, and lived in Portland, Oregon before moving to New Haven. He is an avid cyclist, hiker, and camper and once spent a long summer as a wildland firefighter in Colorado.
He holds a B.A. in Anthropology and Political Science from the University of Florida and a M.A. in History from Portland State University.