Tyler Kynn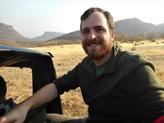 Bio:
I am a sixth year ABD Ph.D. candidate in the Department of History. I expect to submit my dissertation in the Spring term of 2020. I was born in Minnesota and grew up just outside of Minneapolis. Ever since the fourth grade I have been fascinated in history and eventually found myself determined to study the history of the Ottoman Empire and the larger Islamic world.
 
My research interests revolve around issues of identity/loyalty (confessional, ethnic, imperial) and mobility in the early modern Islamic world, hajj travel accounts, inter-imperial travelers, Ottoman seventeenth-century history, as well as, early modern Safavid and Mughal history.
 
In 2012 I completed my BA in history at the University of Minnesota: Twin Cities. In 2014 I completed a 2-year MA in History at Central European University in Budapest with a thesis related to Kurdish self-fashioning in seventeenth-century Eastern Anatolia.
 
In 2017-2018 I completed my research for my dissertation titled "Encounters of Islam and Empire: The Hajj in the Early Modern World." My research took me to India (New Delhi, Lucknow, Surat, Mumbai), Saudi Arabia (Riyadh, Jeddah), the UK (London), and Turkey (Istanbul). This added to my previous material for my dissertation which I collected in Morocco (Rabat) and Turkey. My research languages are Ottoman Turkish, Classical Arabic, Persian, and Indo-Persian.
 
When I am not reading history I enjoy traveling (as my research interests might suggest), hanging out with my partner Jamie, following baseball, helping out with my partner's roller derby team, and going on road trips.